The programming at the Springfield Boys & Girls Club is the best reason to join and continue as a member.
If You're Not a Member, Become One Today
From the start of the school year, September through the following May, the Springfield Boys and Girls Club hosts a variety of programs for children ages 6 to 12 and teen programs for 13 to 18 years.
Our monthly calendar is the best place to find out what is happening daily and weekly at the Club.
Programming is intended to be positive, interactive, educational, social, and fun. It is through the programming at the Club that friendships are made. Children learn competencies, stimulate learning, build confidence, and connect with caring adults who support healthy development.
The Springfield Boys & Girls Club is a leading youth service provider for quality programs to meet the needs of children in the community.
Arts, Education, Sports & Leisure
We offer our members a variety of programs to give kids the opportunity to try new things and explore their passions, including:
Smart Girls – Leadership program for girls
Passport to Manhood – Leadership program for boys
Basketball
Music
Dance
Cooking
Field Trips (hiking, fishing, etc.)
Arts & Crafts
E-Sports
"Power Hour" – one hour focused on homework with assistance as needed
and many more!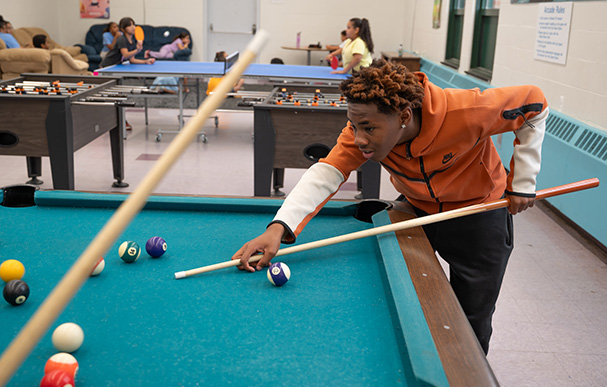 The Springfield Boys and Girls Club is open to teen membership as well. Some teens were Club kids, but others are coming to the Club for the first time. Teen programming is a way to socialize, make friends, and be educated on important life skills. For teens 13 to 18 years:
Job Ready – preparation for and getting a first job
Summer Nights – Weekly events in the summer months
Open Pool Swim
Baking
Dance
Sports League
College Tours
Career Information
Life Skills Class
Financial Literacy
Mental Health Mondays
Beginning September 12, 2023
Drop-In Program (Ages 6-12)
Tuesday – Friday: 3:00 pm – 6:00 pm
Saturdays/School Vacation Days: 9:30 am – 1:30 pm
Drop-In Program (Ages 13-18)
Tuesday – Friday: 6:00 pm – 9:00 pm
Saturdays/School Vacation Days: 1:30 pm – 5:30 pm
Membership Fees
All Ages: $40 per academic year
EEC Licensed After School Program
Monday – Friday
School Days: 3:00 pm – 6:00 pm
Vacation Days: 8:00 am – 5:30 pm
Early Dismissal: 12:00 pm – 6:00 pm
Transportation Available
Vouchers Accepted
Please note that club hours are subject to change